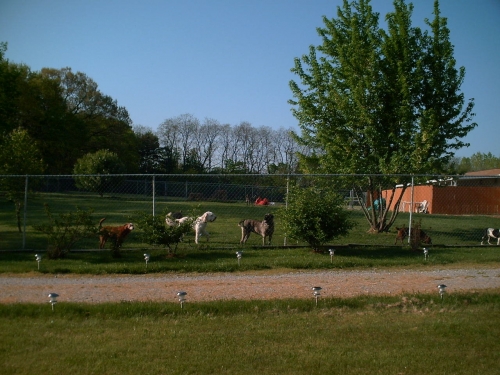 Just 8 miles off of I-675 bordering the Enon, Springfield and Yellow Springs area is Paradise 4 Dogs. We are a non-traditional dog boarding facility that just Dog-Gone Fun!!! Our guests get outside to run & play everyday- minimum 4 times a day. An Advanced Certified Pet Care Technican resides on the property.
Amenities
1 Acre Dog Park complete with Sand Beach, Puppy Playground and Nature Trails
Puppy Pools Open(Memorial Day-Labor Day)
10 outside play areas
Socialization and Playtime with others
Doggy Day Kamp available Monday-Friday
Puppy cams to view your pets activites
Dogs are temperment tested and grouped accordingly to size, breed, age and temperment. A Playground agreement must be signed before dogs can socialize with each other. Dogs must be spayed or neutered and up to date on shots.
If your dog is on restricted activity or a senior dog they can have their own private playtime .
Please note: We do not board aggressive dogs. This is for the safety of individuals and other dogs.
New clients will need to schedule a Meet & Greet prior to boarding. This allows us to conduct a tour with you and meet your dog(s) . We must be able to handle all dogs without them growling, snapping. biting or exhibiting any fearful behavior. If your dog exhibits any of these behaviors this type of boarding is probably not for them..